About DataGovAi 2020?
DataGovAI Summit & Awards is a series of conference plenary & tracks with keynote, panel discussions, workshops, awards presentation, meet ups and networking sessions. Each day & session will focus on a different topic. ABDI organizing the DataGovAI Summit before with SingEx and TARSUS that has successfully organized Cyber Security Indonesia (CSI) and Indonesia Fintech Show (IFS) in Jakarta.
Pandemic Covid-19 has change everything. To gathering this event 3rd DataGovAI Summit & Awards will held online on webinar series at:
24, 26 November & 1 December 2020
The conference or summit in short provides you with access to the latest case studies, insight and cutting-edge knowledge, with lessons and approved best practices. Wherever you are on the Big data & AI journey, you will be inspired by the experiences and insights shared by our speakers from both domestics, regional Asean & Global.
---
MAIN KEYNOTE & PANEL SPEAKERS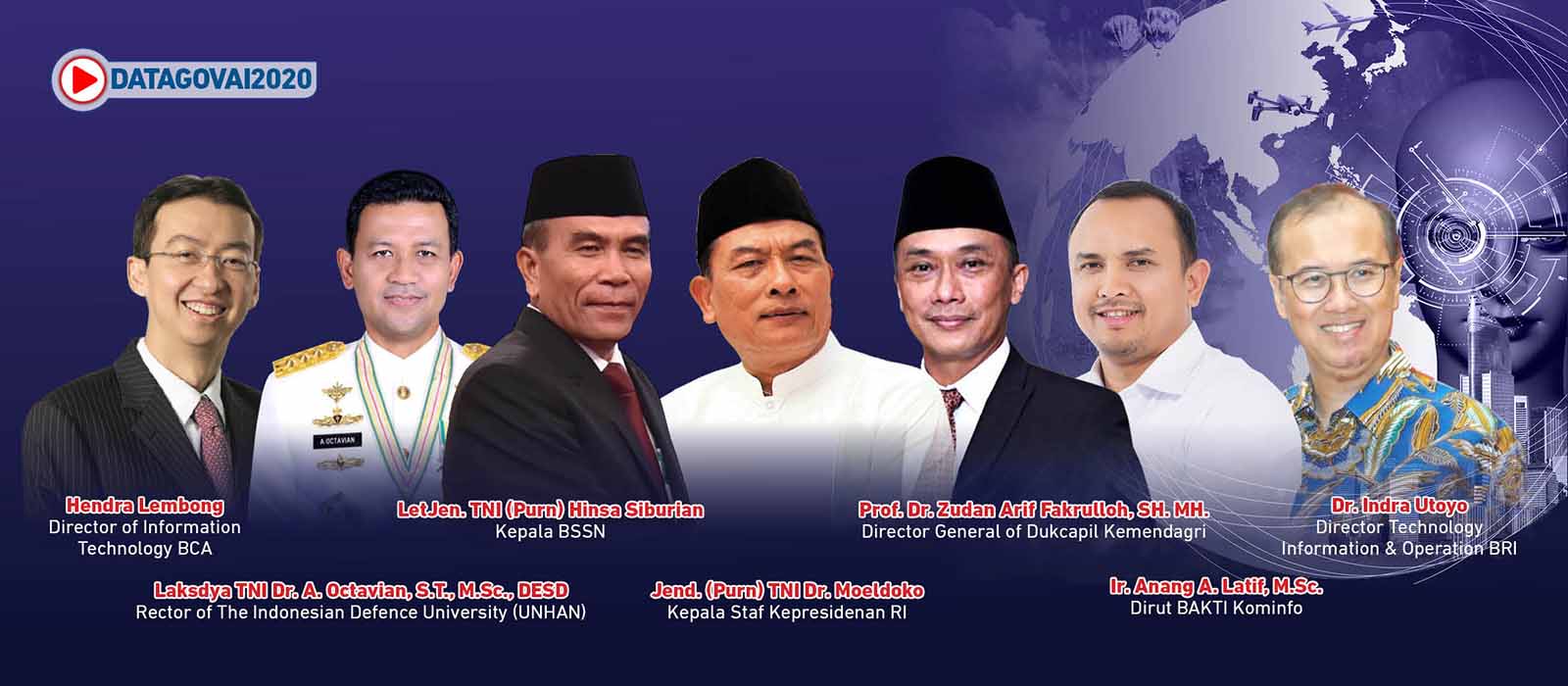 This event will be opened keynote by:
LetJen. TNI (Purn) Hinsa Siburian
Head of National Cyber & Crypto Agency (BSSN)
Prof. Bambang Permadi Soemantri Brojonegoro, Ph.D
Minister of Research and Technology of the Republic of Indonesia/
Chairman National Agency for Research and Innovation *
Prof. Dr. Zudan Arif Fakrulloh, SH. MH.
Director General of Dukcapil Kemendagri
Johnny G. Plate
Minister of Information Communication Technology of the Republic of Indonesia*
Jendral TNI (Purn). Dr. H. Moeldoko
Chief of Staff of Presidency of the Republic of Indonesia
Laksdya TNI Dr. A. Octavian, S.T., M.Sc., DESD
Rector of The Indonesian Defence University (UNHAN)
*) To be confirmed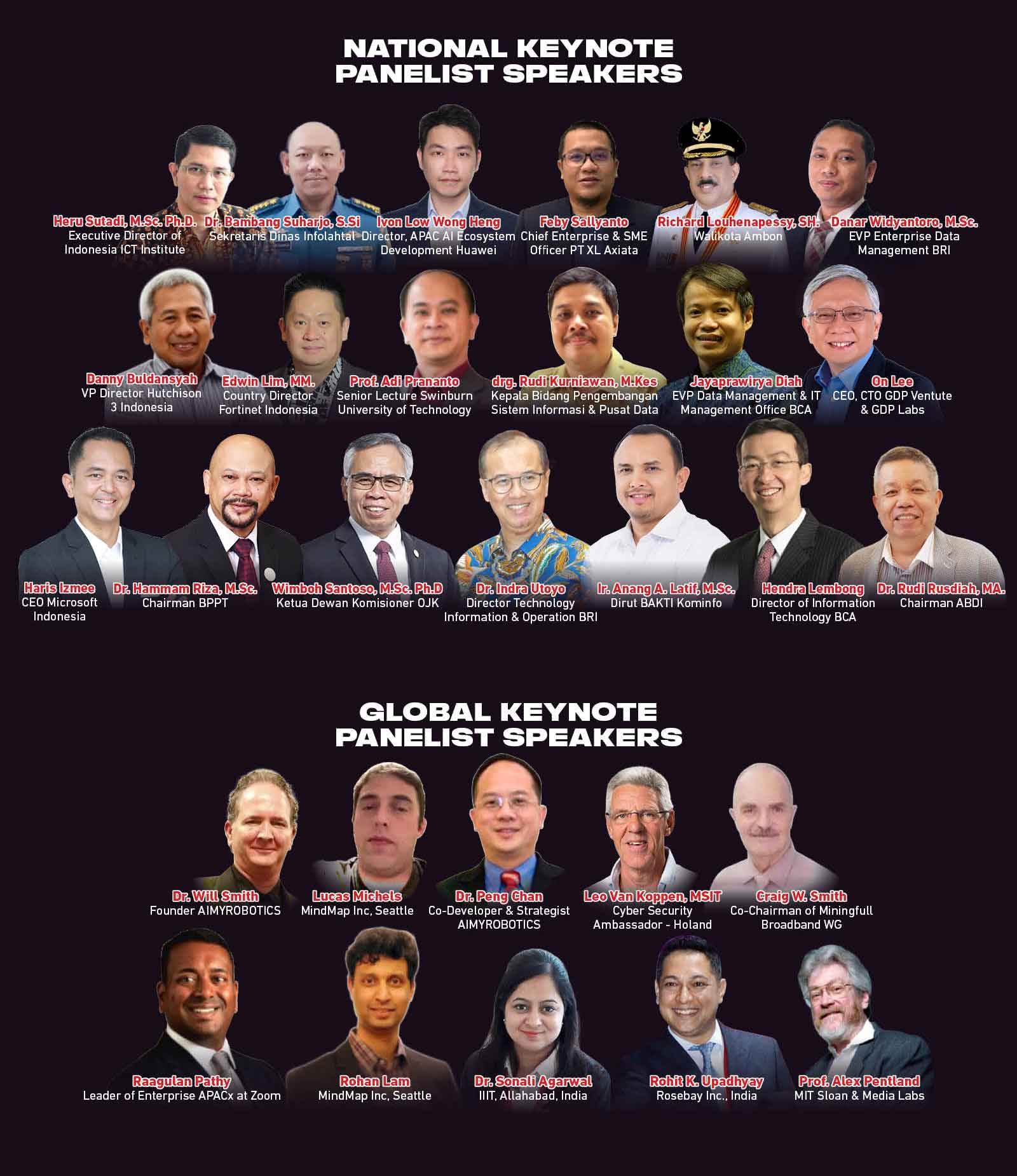 ---
DataGovAi 2020 AGENDA
---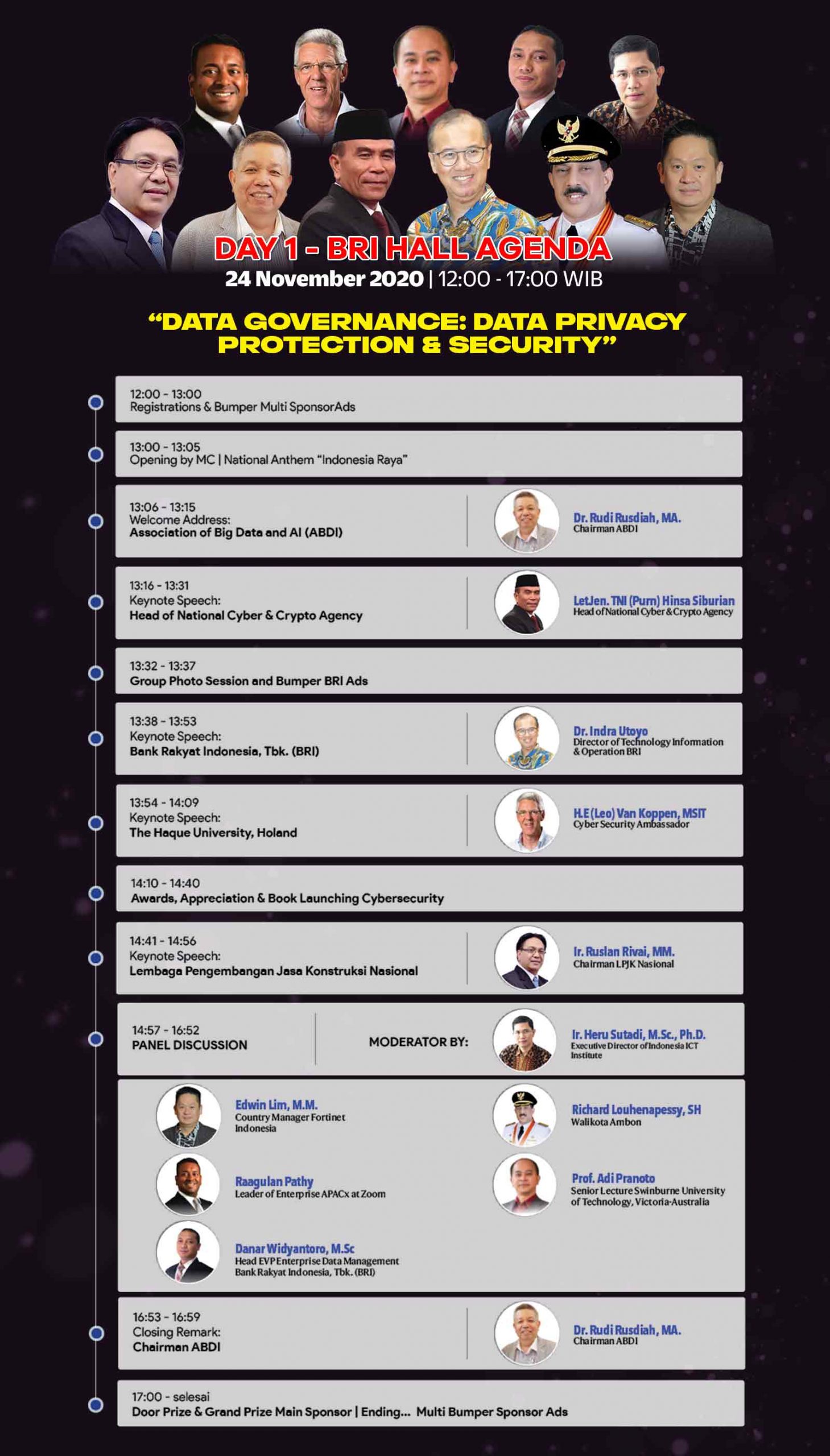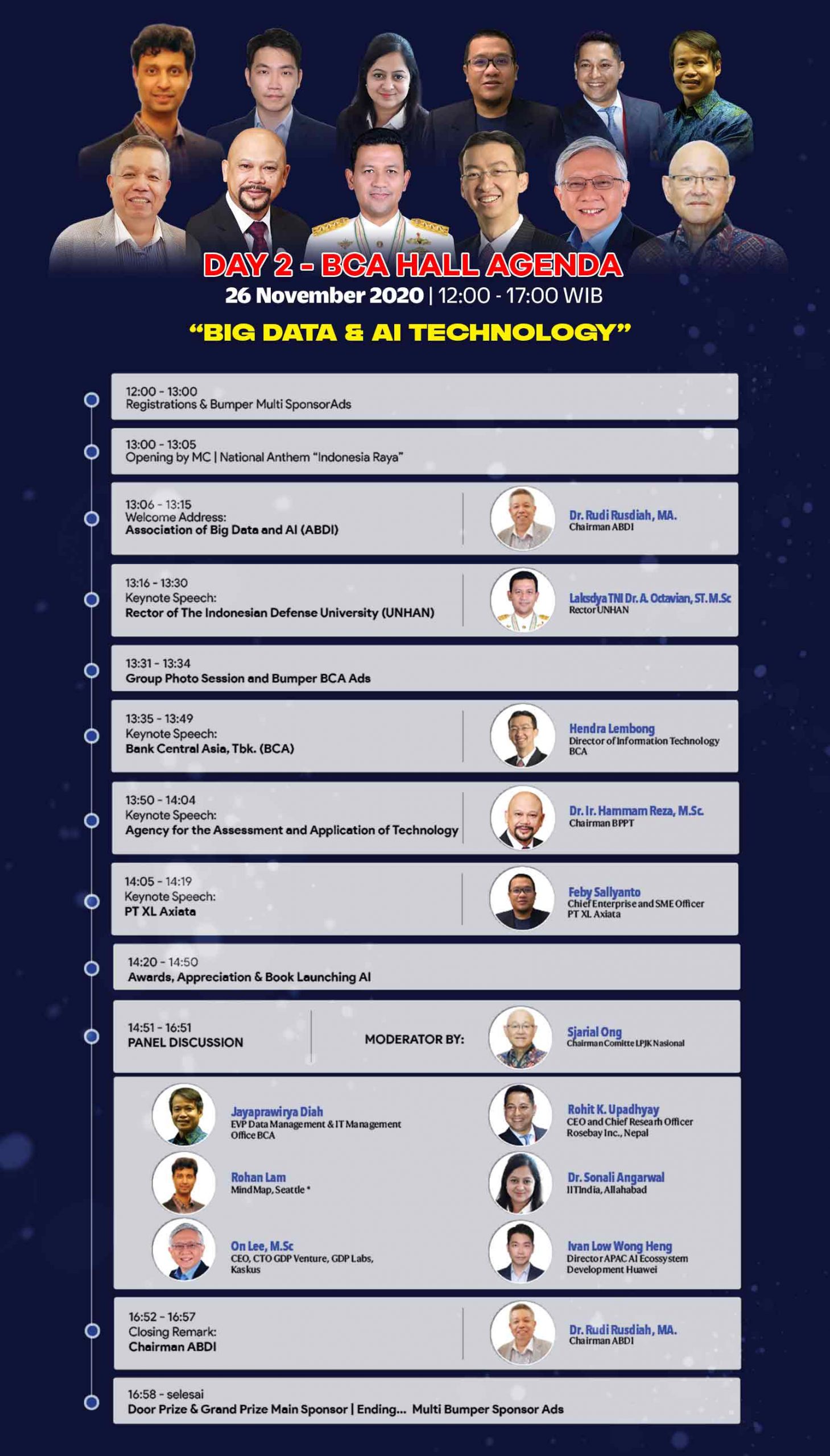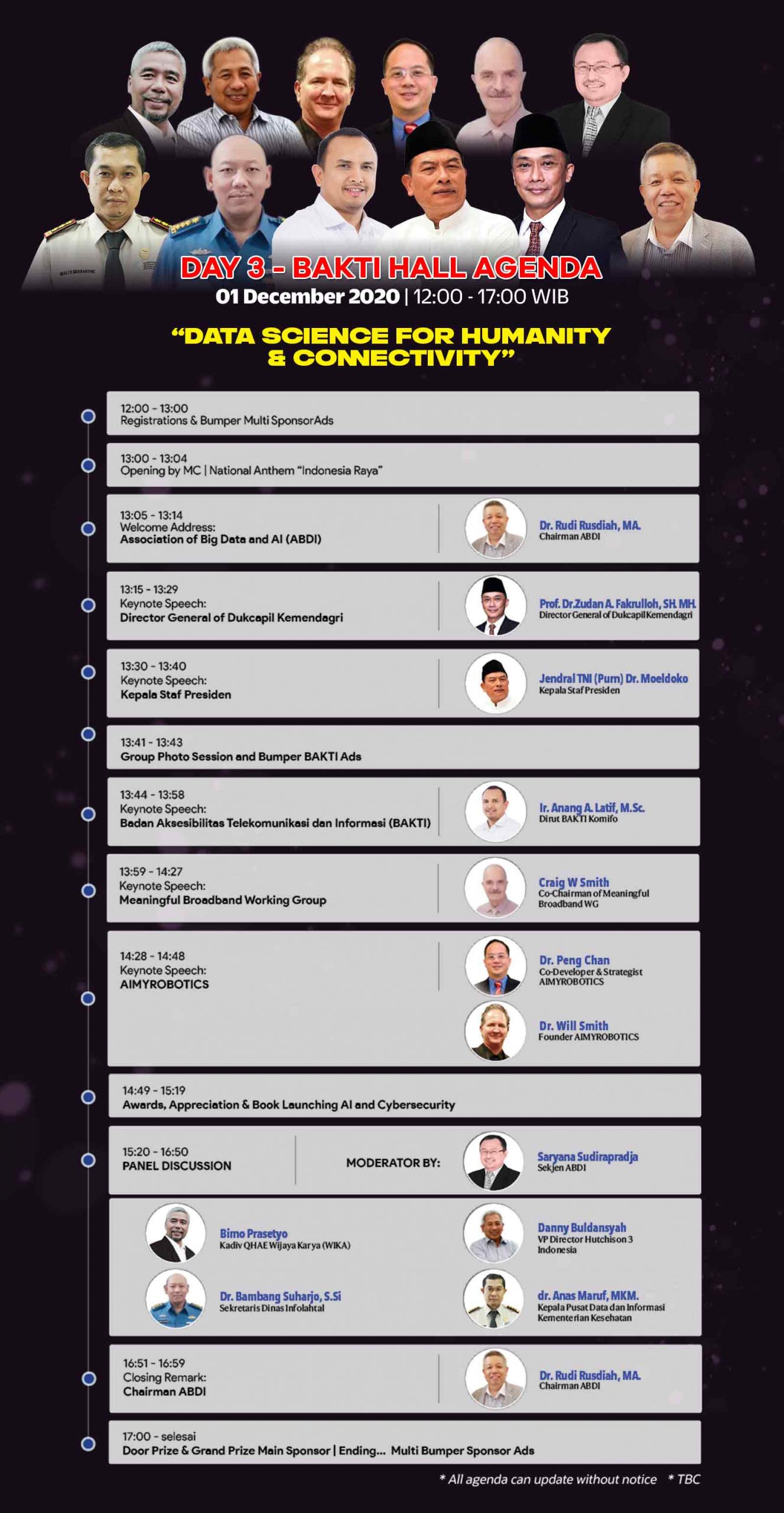 ---
Flash Back: DataGovAi 2019 Key Statistics
Delegates
320
Exhibition
3000m
More than 50 speakers from 14 countries including Rusia, EU, UK, Malaysia, Singapore, Indonesia, USA, Chinese Taipei, China, Hongkong, Japan, Middle East (Israel), India, Nepal and Uzbekistan. Summit was held for two days from 6 – 7 November 2019 at Merak Room 1, 2 & 3 JCC Senayan.
More than 520 people attend the two days Summit, Awards & Expo and the profile pie chart by occupations and by business/industry sectors can be seen below. 60% of the audience are male and 40% are female. Audience & Delegates: 17% C– Level & Director; and 24% are Managerial Level.
---
Flash Back: DataGovAi on Shots
Photo gallery of first DataGovAi 2018 and second DataGovAi 2019 activity.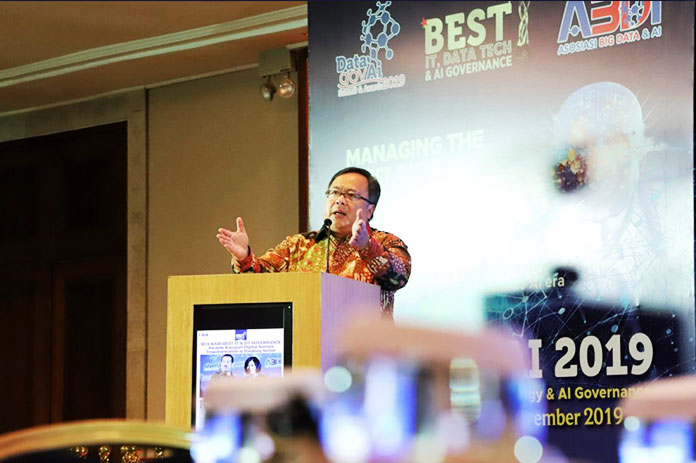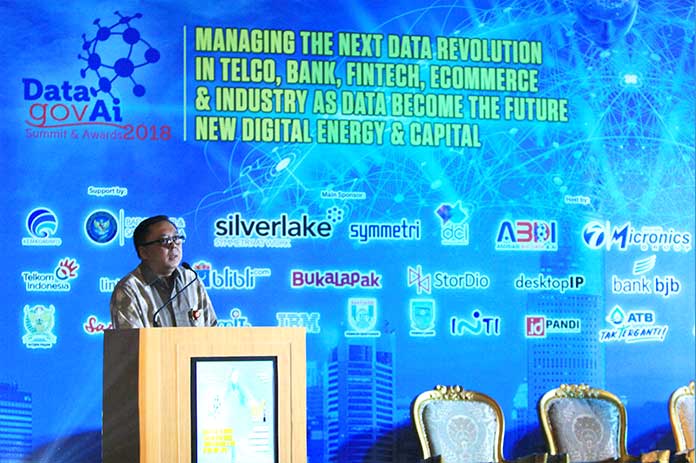 ---
PANEL TRACK FOCUS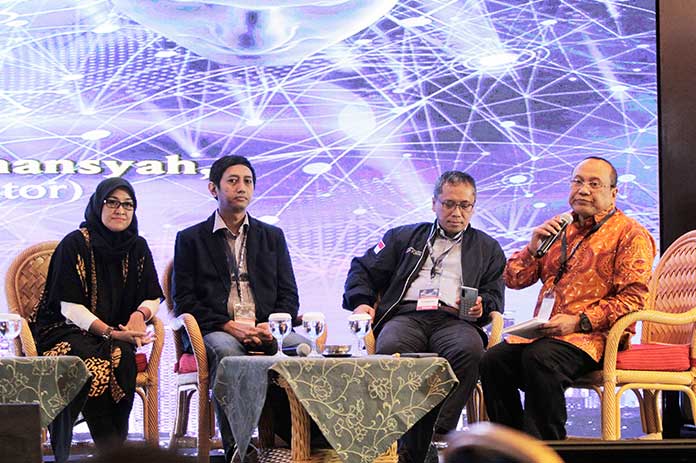 The conference will have several tracks to focus on:
Big Data Security, Customer Data Privacy & Governance related issues
Predictive Analytics, Data Science & Business Analytics
AI(Artificial Intelligent), ML(Machine Learning), IOT & Blockchain related to Big Data.
Big Data Regulations & Regulator forum on Data Privacy & Cross Border Data Flow.
Big Data Startups, Venture Capital & Innovations
---

ONLINE CONFERENCE REGISTRATION
Join the summit conference, choose day 1, day 2 or day 2. Get Free E-Certificate, Grand prize, Door prize and more…
For you require further assistance, please contact us at: ida_m@indopc.co.id, winarto@indopc.co.id, datagovai@indopc.co.id
WA. +62 8159921096 | 085261288032 | +62 81298808866
---
SUPPORT, SPONSORS & PARTNERS