About DataGovAi 2021?
DataGovAI Summit & Awards is a series of conference tracks with keynote, panel discussions, awards and book launching sessions. Each day & session will focus on a different topic. To gathering this event 4th DataGovAi 2021 Summit & Awards will held online on webinar series at:
25, 30 November & 2 December 2021
The conference or summit in short provides you with access to the latest case studies, insight and cutting-edge knowledge, with lessons and approved best practices. Wherever you are on the Big data & AI journey, you will be inspired by the experiences and insights shared by our speakers from both domestics, regional Asean & Global.
---
MINISTRERIAL KEYNOTE

This event will be opened by Ministerial keynote:
Jendral TNI (Purn). Dr. H. Moeldoko
Chief of Staff of Presidency of the Republic of Indonesia
LetJen. TNI (Purn) Hinsa Siburian
Head of National Cyber & Crypto Agency (BSSN)
Jend. Polisi (Purn.) Prof. Tito Karnavian, M.A., Ph.D.
Minister of Home Affairs
H. Tjahjo Kumolo, SH.
Minister of Administrative and Bureaucratic Reform of Indonesia
Dr. Ir. H. Suharso Monoarfa
Minister of National Development Planning/Head of Bappenas
Dr. Jerry Sambuaga, MIA
Vice Minester of Trade the Republic of Indonesia
KEYNOTE SPEAKER

Day 1 – BAKTI HALL Keynote – Thursday, 25 November 2021
Semuel A. Pangerapan
Director General of APTIKA Ministry of Communications
and Informatics (Kominfo)
Ir. Anang Achmad Latif, M.Sc.
President Director of BAKTI Kominfo
Ir. Siti Choiriana, MM.
Director of Courier and Logistic Business PT POS Indonesia
Laksdya TNI Prof. Dr. Amarulla Octavian, S.T., M.Sc., DESD.
Rektor UNHAN RI
Fransiscus Kaurrany
IT Executive Vice President of BCA
Prof. Dr. Adi Prananto
Senior Lecturer and Academic Director,
Swinburn University Australia
Day 2 – BCA HALL Keynote – Tuesday, 30 November 2021
Armand Wahyudi Hartono, M.Sc.
Vice President Director of BCA
Kusumo Martanto
CEO & Co Founder Blibli
Letjen TNI (Purn) Agus Widjojo
Gubernur Lemhanas
Kharisma
CCO Telkom International
David Herman Jaya
CEO New Armada
Day 3 – ABDI HALL Keynote – Thursday, 02 December 2021
Prof. Dr. Zudan Arif Fakrulloh, SH., MH.
Director General of Population and Civil Registry
Drs. Djauhari Oratmangun
Ambassador RI for China
Tanto Suratno, M.Sc.
Director of Business and Sales Telkomsigma
Prof. Dr. Peng Chan
Charisma University USA
Yudi Hamka, MBA.
CTO MNC Group
PANELIST

Day 1 – BAKTI HALL PANELIST
Prof. Dr. Sonali Agarwal
Indian Institute of Information Technology Allahabad
Shinta W. Dhanuwardoyo, MBA.
CEO of Bubu.com
Budi A. Setiawan
Chief Marketing Officer BIGBOX
Dr. Eng. Hary Budiarto, M.Kom.
Kepala Badan Penelitian dan Pengembangan SDM Kementerian Komunikasi dan Informatika RI
Nelly Novitawaty, S.Kom
Universitas Budi Luhur
Day 2 – BCA HALL PANELIST
Brian Cakra
Head Internet of Things & Big Data PT XL Axiata, Tbk
Brigjen TNI Ferdinand Mahulette, SE.
Director of Operation and Cyber Security BSSN
Nadia Alatas, S.Kom., EMBA.
Founder Data Academy
Setia Pramana, Ph.D.
Associate Professor & Coordinator Statistical Model Development BPS
Day 3 – ABDI HALL PANELIST
Dr. Fadhilah Mathar
Director of Resources and Administration of BAKTI KOMINFO
Dr. Ir. Wendi Usino, M.Sc., MM.
Rector of Universitas Budi Luhur
Gabriel Diana Sanjoto
Director of Aksata e-KYC Solutions
Dr. Ir. Taufik Hanafi, MUP.
Deputy for Monitoring, Evaluation & Control of Development of Bappenas
---
DataGovAi 2021 AGENDA
---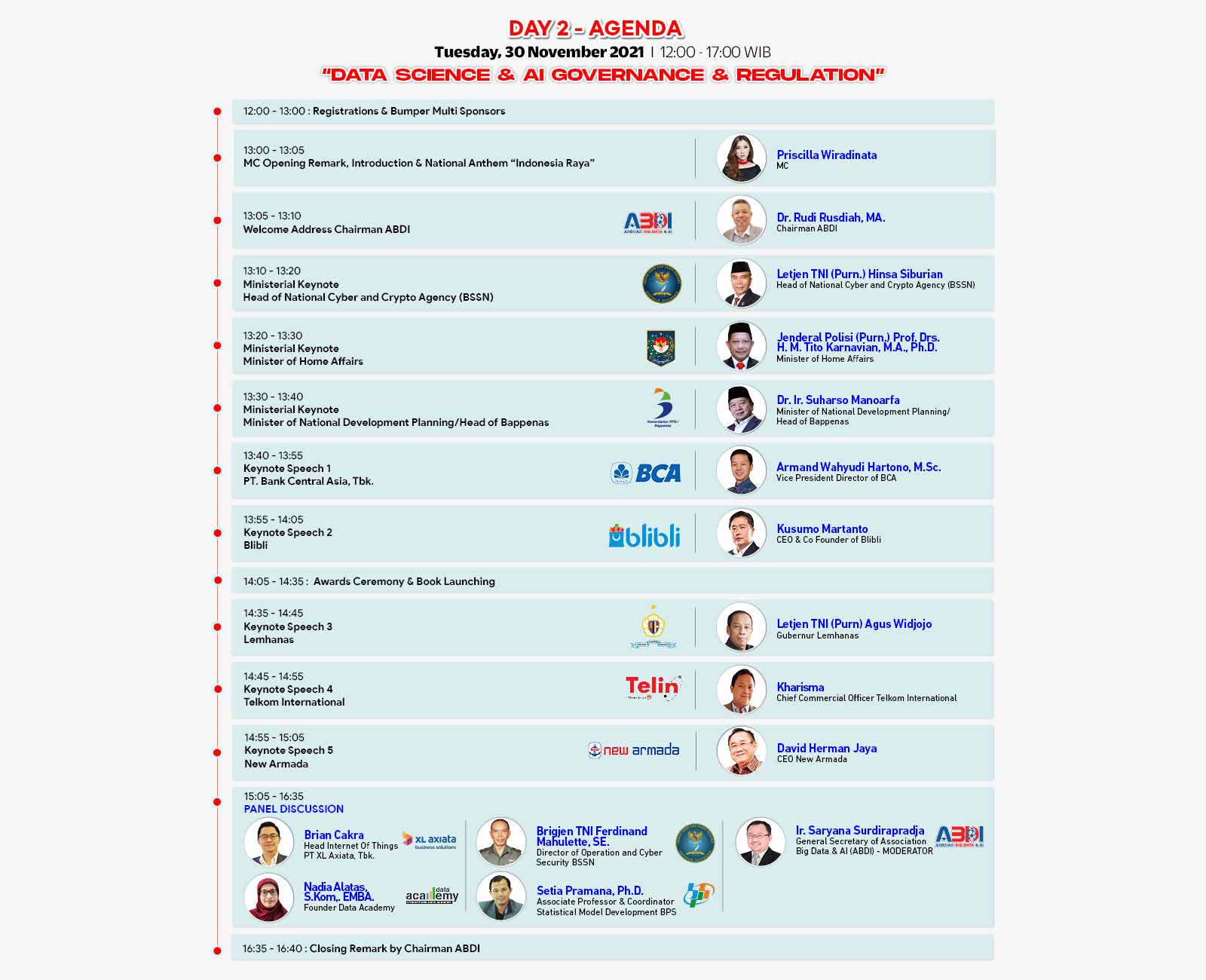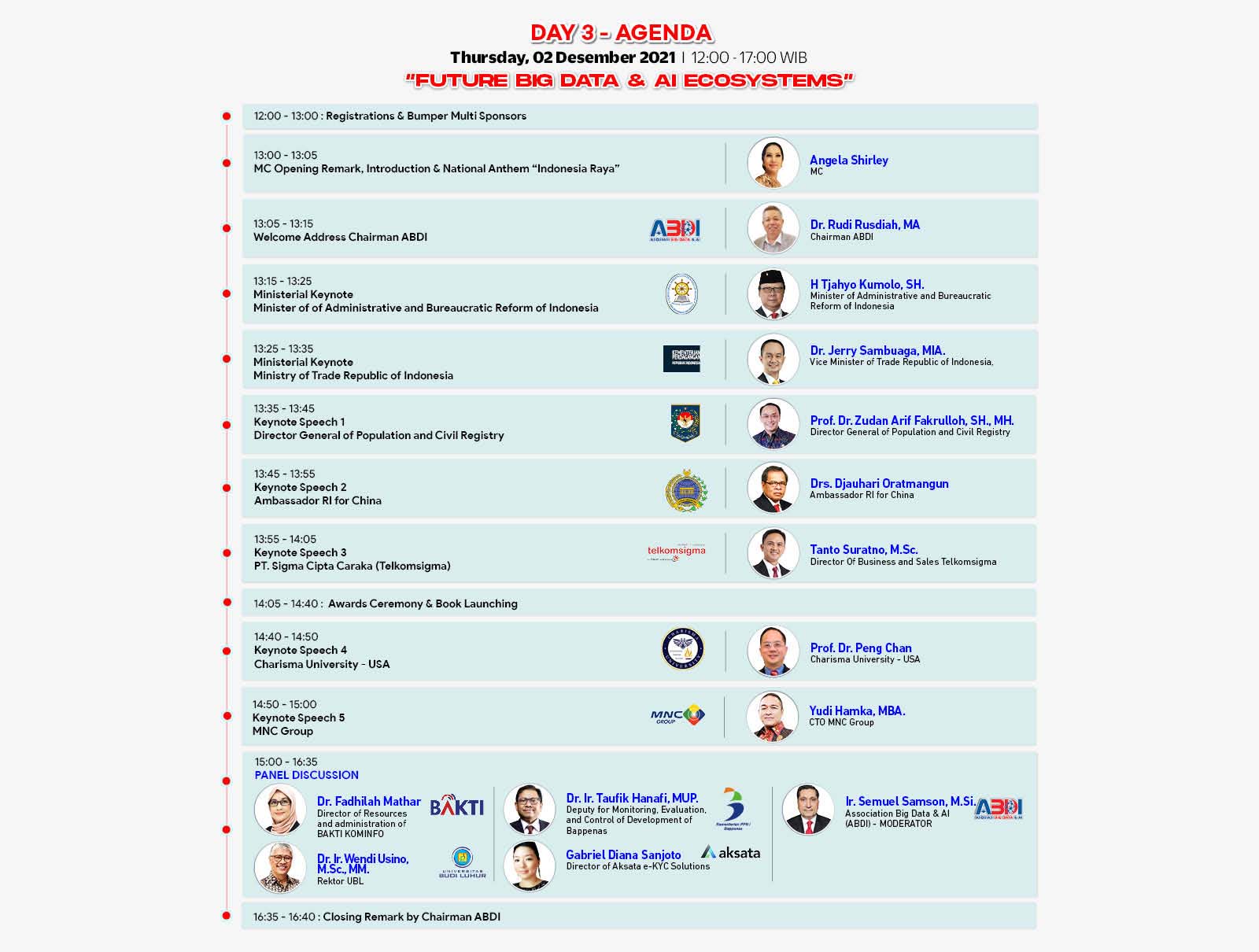 ---
Flash Back: DataGovAi 2019 – 2020 Key Statistics
Delegates
320
Exhibition
3000m
More than 50 speakers from 14 countries including Rusia, EU, UK, Malaysia, Singapore, Indonesia, USA, Chinese Taipei, China, Hongkong, Japan, Middle East (Israel), India, Nepal and Uzbekistan. Summit was held for two days from 6 – 7 November 2019 at Merak Room 1, 2 & 3 JCC Senayan.
More than 520 people attend the two days Summit, Awards & Expo and the profile pie chart by occupations and by business/industry sectors can be seen below. 60% of the audience are male and 40% are female. Audience & Delegates: 17% C– Level & Director; and 24% are Managerial Level.
---
Flash Back: DataGovAi on Shots
Photo gallery of first DataGovAi 2018 and second DataGovAi 2019 activity.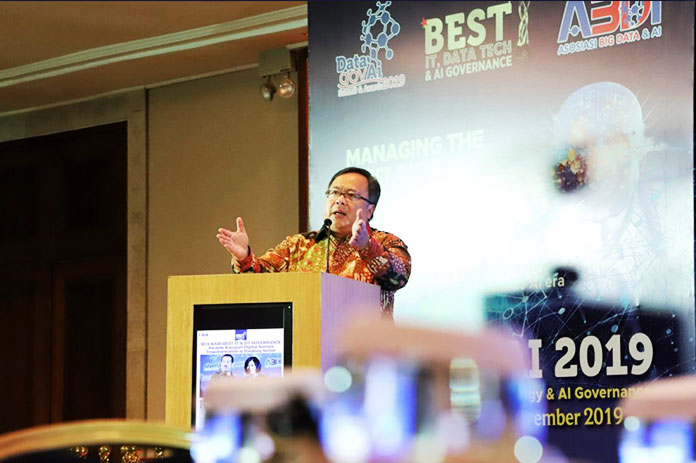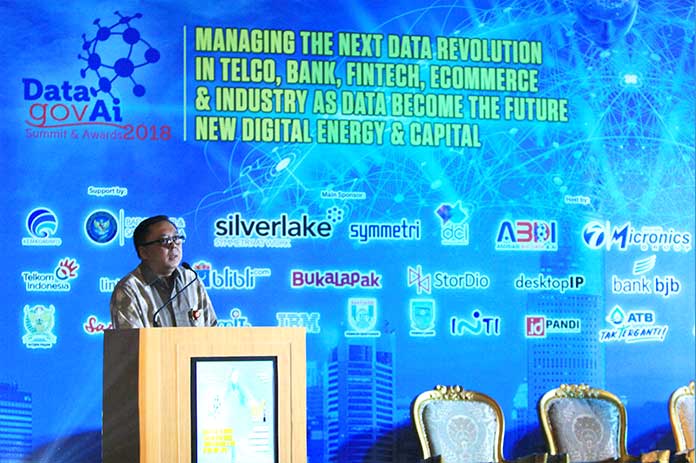 ---
PANEL TRACK FOCUS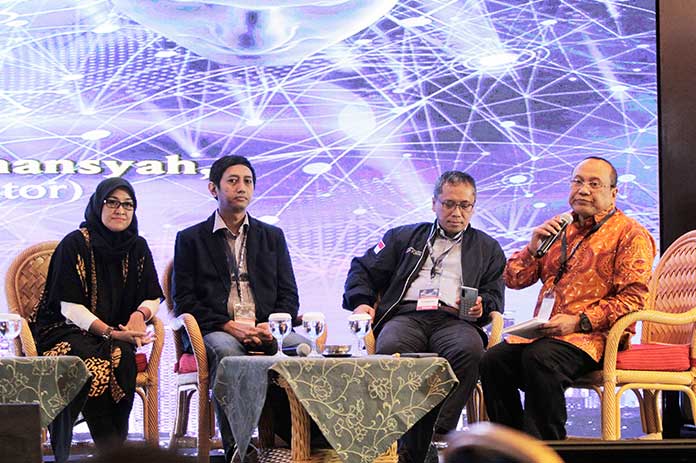 The conference will have several tracks to focus on:
Big Data Security, Customer Data Privacy & Governance related issues
Predictive Analytics, Data Science & Business Analytics
AI (Artificial Intelligent), ML(Machine Learning), IOT & Blockchain related to Big Data.
Big Data Regulations & Regulator forum on Data Privacy & Cross Border Data Flow.
Big Data Startups, Venture Capital & Innovations
Robotics and AI Technology.
Governance and Satu Data Indonesia.
---

ONLINE CONFERENCE REGISTRATION
Join the summit, awards and book launching, choose day 1, day 2 or day 3. Get Free E-Certificate, Grand prize, Door prize and more…
For you require further assistance, please contact us at: ida_m@indopc.co.id, datagovai@indopc.co.id
WA. +62 815 992 1096 | +62 852 6128 8032 | +62 812 9880 8866
---
SUPPORT, SPONSORS & PARTNERS