About DataGovAi 2023?
DataGovAI Summit & Awards is a series of conference tracks with keynote, panel discussions, awards and book launching sessions. Each day & session will focus on a different topic. To gathering this event 6th DataGovAi 2023 Summit & Awards will be held Hybrid – JCC Merak Hall & Zoom webinar series at:
22, 24 & 28 November 2023
6th DataGovAi 2023 Main Theme:
"Technology Transformation, Resilience, Trust, Integrity Governance & Future Trend"
6th DataGovAi 2023 Day 1 Hybrid – Wednesday 22 November 2023 Theme:
"ABCDE Technology Transformation & Disruption"
(ABCDE= Ai, Blockchain, Data Centre/Cloud, Big Data and Cyber sEcurity)
6th DataGovAi 2023 Day 2 – Friday 24 November 2023 Theme:
"Data Governance, Resiliency & Regulation"
(Enterprise Data Security, Data Privacy Protection, Border Protection, Risk Management, GovTech & RegTech)
6th DataGovAi 2023 Day 3 – Tuesday 28 November 2023 Theme:
"Future & Ecosystems"
(Future Data Science & Ai, Smart & Safe Ecosystem, Digital Economy & Humanity.)
The conference or summit in short provides you with access to the latest case studies, insight and cutting-edge knowledge, with lessons and approved best practices. Wherever you are on the Big Data & AI journey, you will be inspired by the experiences and insights shared by our speakers from both domestics, regional Asean & Global.
---
MINISTERIAL AND OPENING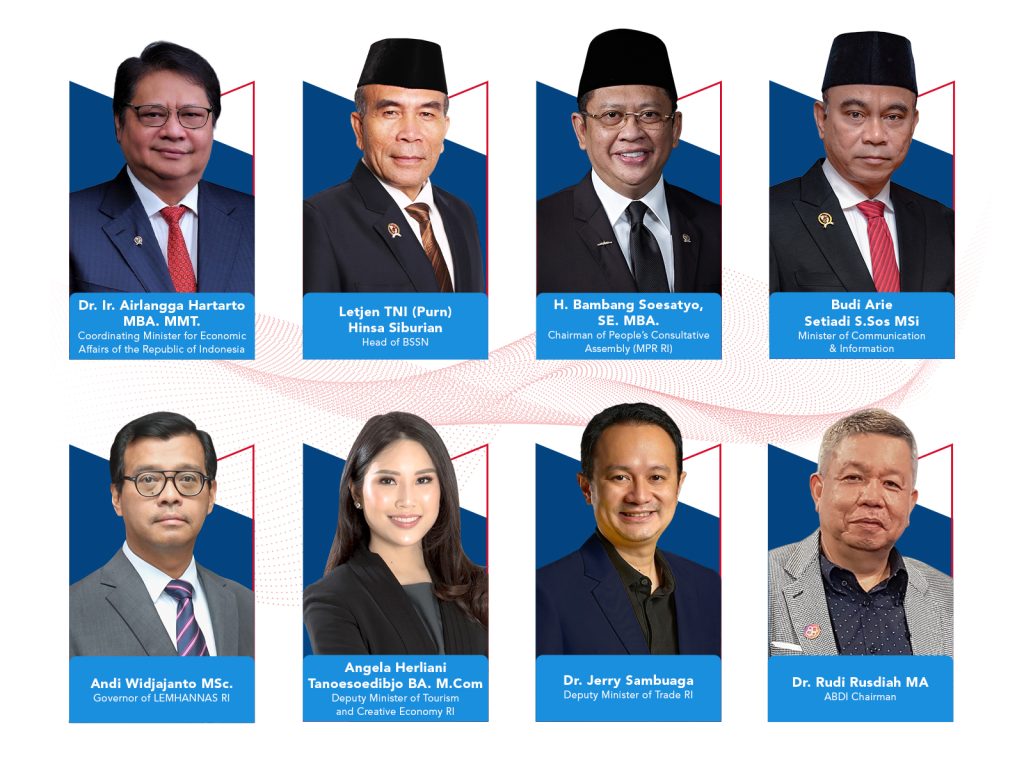 This event will be opened by Ministerial keynote:
 H. Bambang Soesatyo, SE., MBA.
Chairman of People's Consultative Assemby (MPR RI)
Dr. Ir. Airlangga Hartarto, MBA., MMT.
Minister of the Coordinating Minister for Economic Affairs of Republics of Indonesia
LetJen. TNI (Purn) Hinsa Siburian
Head of National Cyber & Crypto Agency (BSSN)
Budi Arie Setiadi S.Sos MSi
Minister of Communications and Information of Republics of Indonesia
Angela Herliani Tanoesoedibjo, BA., M.Com.
Vice Minister of Tourism and Creative Economy of Republics of Indonesia
Dr. Jerry Sambuaga, MIA.
Minister of Vice Minister of Trade Republics of Indonesia
Andi Widjajanto, M.Sc.
Gubernur Lemhanas RI
Dr. Rudi Rusdiah, MA.
Chirman ABDI (Welcoming Remarks)
KEYNOTE SPEAKER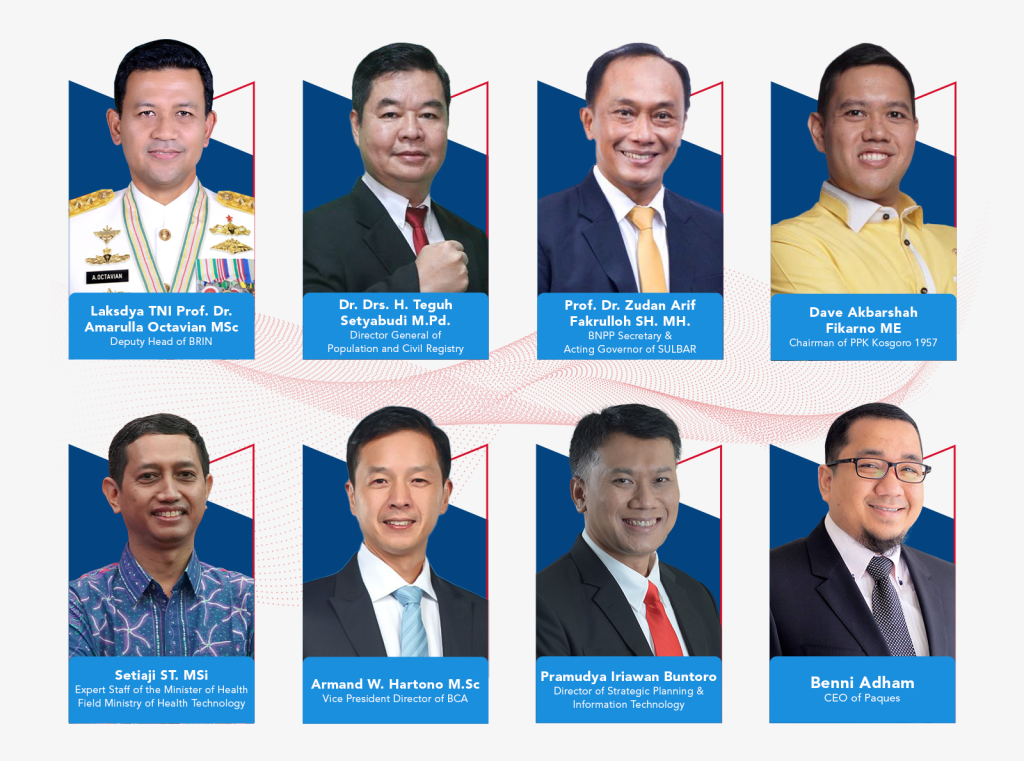 Day 1 – Keynote – Wednesday, 22 November 2023
Armand W. Hartono M.Sc.
Vice President Director of BCA.
Pramudya Iriawan Buntoro
Direktur Perencanaan Strategis dan Teknologi Infomrasi BPJS Ketenagakerjaan.
 Benni Adham
Chief Executive Officer (CEO) Paques Indonesia.
Day 2 – Keynote – Thursday, 24 November 2023
Dr. Drs. H. Teguh Setyabudi M.Pd.
Dirjen Dukcapil Kemendagri RI.
Laksdya TNI Prof. Dr. Amarulla Octavian, S.T., M.Sc., DESD.
Wakil Kepala BRIN.
Prof. Dr. Muh Aris Marfai MSc.
Kepala Badan Informasi Geospasial (BIG).
Day 3 – Keynote – Tuesday, 28 November 2023
Letjen TNI Jonni Mahrosa S.IP. MA. MSc.
Rektor Universitas Pertahanan Republik IndonesiaI (UNHAN).
Prof. Dr. Zudan Arif Fakrulloh, SH., MH.
Director General of Population and Civil Registry.
PANELIST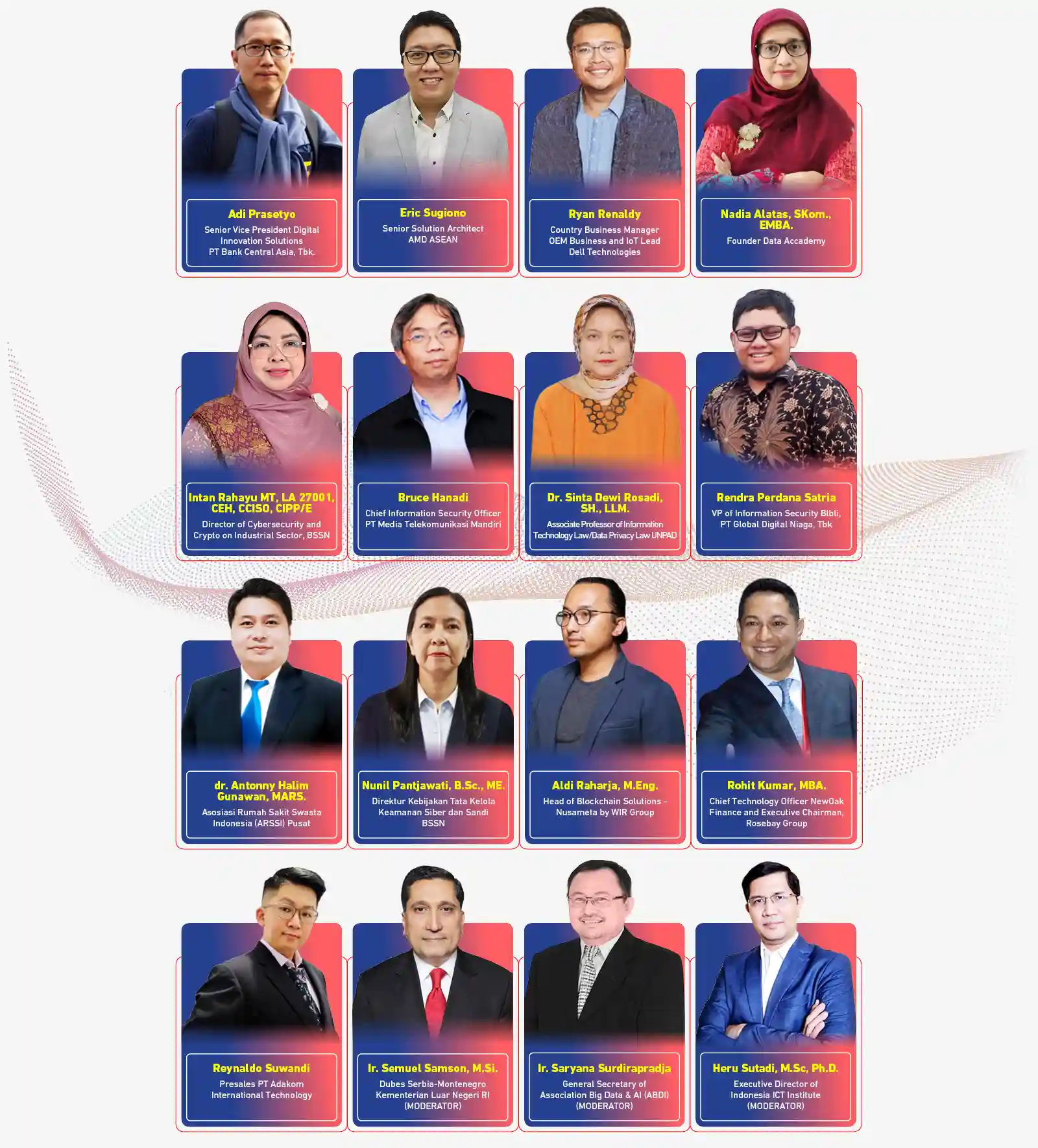 Day 1 – MERAK HALL PANELIST
Panelist 1:
Intan Rahayu MT, LA 27001, CEH, CCISO, CIPP/E
Director of Cybersecurity and Crypto on Industrial Sector, BSSN
Panelist 2:
Ryan Renaldy
Country Business Manager – OEM Business and IoT Lead – Dell EMC Indonesia
Panelist 3:
Rohit Kumar, MBA.
Chief Technology Officer NewOak Finance and Executive Chairman, Rosebay Group
Panelist 4:
Nadia Alatas, S.Kom., EMBA.
Founder Data Accademy
Moderator:
Heru Sutadi, M.Sc., Ph.D.
Day 2 – MERAK HALL PANELIST
Panelist 1:
Rendra Perdana Satria
VP of Information Security Blbli, PT Global Digital Niaga, Tbk
Panelist 2:
Bruce Hanadi
Chief Information Security Officer at PT Media Telekomunikasi Mandiri
Panelist 3:
Prof. Dr. Sinta Dewi Rosadi, SH., LLM.
Associate Professor of Information Technology Law/Data Privacy Law Universitas Padjadjaran
Panelist 4:
dr. Antonny Halim Gunawan, MARS
Asosiasi Rumah Sakit Swasta Indonesia (ARSSI) Pusat
Moderator:
Ir. Saryana Surdirapradja
Day 3 – MERAK HALL PANELIST
Panelist 1:
Adi Prasetyo
Senior Vice President Digital Innovation Solutions PT Bank Central Asia, Tbk.
Panelist 2:
Eric Sugiono
Senior Solution Architect AMD ASEAN
Panelist 3:
Aldi Raharja, M.Eng.
Head of Blockchain Solutions – Nusameta by WIR Group
Panelist 4:
Reynaldo Suwandi
Presales PT Adakom International Technology
Panelist 5:
Nunil Pantjawati, B.Sc., ME.
Direktur Kebijakan Tata Kelola Keamanan Siber dan Sandi BSSN
Moderator:
Semuel Samson, M.Si.
---
---
Flash Back: DataGovAi 2019 – 2021 Key Statistics
Delegates
320
Exhibition
3000m
More than 50 speakers from 14 countries including Rusia, EU, UK, Malaysia, Singapore, Indonesia, USA, Chinese Taipei, China, Hongkong, Japan, Middle East (Israel), India, Nepal and Uzbekistan. Summit was held for two days from 6 – 7 November 2019 at Merak Room 1, 2 & 3 JCC Senayan.
More than 520 people attend the two days Summit, Awards & Expo and the profile pie chart by occupations and by business/industry sectors can be seen below. 60% of the audience are male and 40% are female. Audience & Delegates: 17% C– Level & Director; and 24% are Managerial Level.
---
Flash Back: DataGovAi on Shots
Photo gallery of first DataGovAi 2018 and second DataGovAi 2019 activity.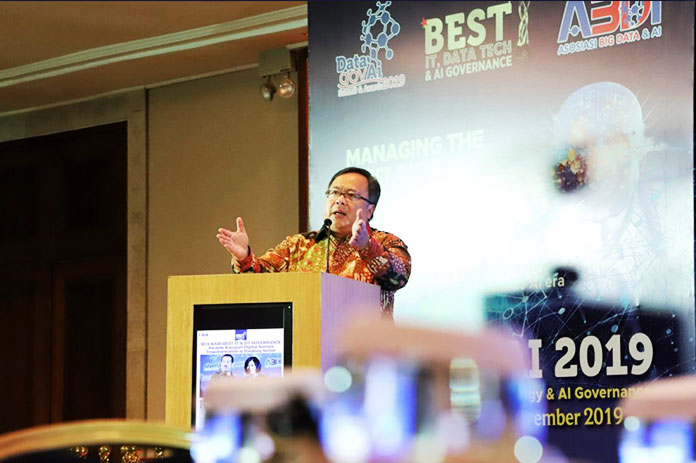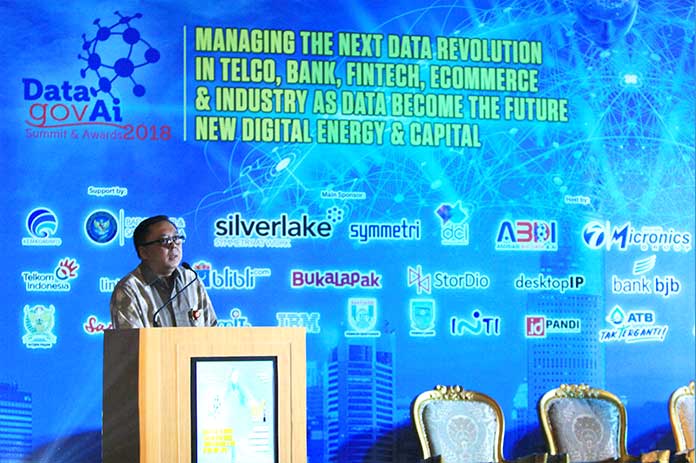 ---
PANEL TRACK FOCUS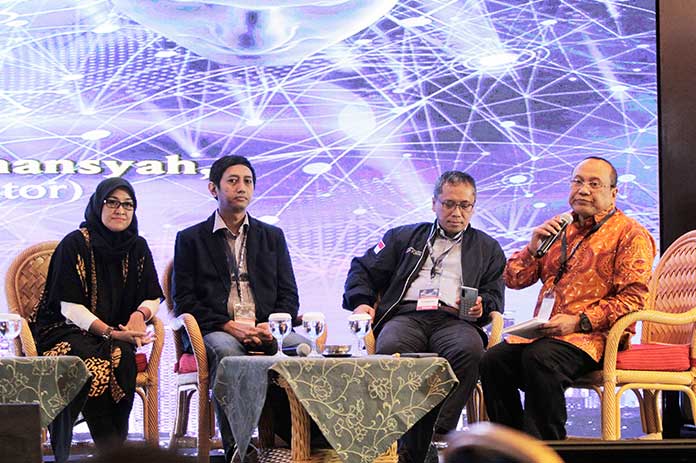 The conference will have several tracks to focus on:
Big Data Security, Customer Data Privacy & Governance related issues
Predictive Analytics, Data Science & Business Analytics
AI (Artificial Intelligent), ML(Machine Learning), IOT & Blockchain related to Big Data.
Big Data Regulations & Regulator forum on Data Privacy & Cross Border Data Flow.
Big Data Startups, Venture Capital & Innovations
Robotics and AI Technology.
Governance and Satu Data Indonesia.
---

ONLINE CONFERENCE REGISTRATION
Join the summit, awards and book launching, choose day 1, day 2 or day 3. Get Free E-Certificate, Grand prize, Door prize and more…
For you require further assistance, please contact us at: ida_m@indopc.co.id, datagovai@indopc.co.id
WA. +62 815 992 1096 | +62 852 6128 8032 |
---